Airplane Noise
LOS ANGELES INTERNATIONAL AIRPORT (LAX) ADVISORY
Schedule of Upcoming Runway Closures
August 2021
Los Angeles World Airports is committed to being a good neighbor by minimizing aircraft noise within surrounding communities when possible and keeping our neighbors informed of any temporary changes in aircraft operations. As part of this effort, we are providing information on upcoming runway closures that may cause residents to notice a change in aircraft flight activity and associated noise. This information is intended to help promote public awareness and understanding of aircraft noise issues that may temporarily affect residential areas.
The following table provides a schedule of runway closure activity for August 2021. To learn more about the specific change in aircraft operations associated with each runway closure, please click on the hyperlink below in the last column.
Date

Runway

Time Period

Reason for Closure

Anticipated Change in Aircraft Operations

8/2 to 8/4

8/7 & 8/8

South Outboard Runway

25L/07R

12:30 AM – 6:30 AM

Maintenance & Other Activities

8/5

South Inboard Runway 25R/07L

12:30 AM – 6:30 AM

Maintenance

8/12 to 8/14

8/23 to 8/25

North Inboard Runway

24L/06R

12:30 AM – 6:30 AM

7:30 AM - 1:30 PM

Maintenance & Other Activities

8/16 to 8/18

8/30 to 9/1

South Outboard Runway

25L/07R

12:30 AM – 6:30 AM

Maintenance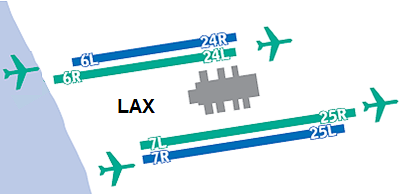 LAX Noise Management Webpage Offers New Feature on Email Notifications
The LAX Noise Management webpage offers a new feature allowing individuals in the community to sign up to receive email notifications regarding aircraft flight activity and other aircraft noise-related information. The process for signing up is simple by visiting the LAX Noise Management's website at www.lawa.org/LAXNoise and look for the "Aircraft Noise Notifications" form to input the required information (email address, city and zip code) and then click the subscribe button. A short email validation process then follows.
FAA SoCal Metroplex Public Information Workshops
The City invited the public to come learn about changes in flight paths occurring in March and April 2017 that will upgrade the existing system to satellite-based technology. A series of public information workshops and Internet-based webinars were conducted in January and February 2017 to provide a variety of information on the Metroplex project. The public information workshops were an open-house format where the public can attend anytime during the posted times to learn about the project. FAA representatives provided a variety of information on the project and were on site to answer questions. Check out FAA webpage (external site) or click to see the letter and flyers from FAA regarding these workshops.
FAA SoCal Metroplex Public Information Workshop Held in Monterey Park
The FAA SoCal Metroplex public information workshop session #2 was held on January 24, 2017 at Monterey Park Langley Senior Center in the Main Room. For up-to-date information, please review the project website (external site).
FAA SoCal Metroplex Community Engagement
The Federal Aviation Administration (FAA) signed a Finding of No Significant Impact and (FONSI) Reco
rd of Decision (ROD) for the Southern California Metroplex project on August 31, 2016. This is the FAA's final decision, and it enables the agency to move forward with implementing the project, which will replace dozens of existing conventional air traffic control procedures with new satellite-based procedures. The project is being implemented in phases between November 2016 and April 2017. FAA is planning community outreach in support of the implementation of the project. The outreach will consist of both public information briefings and internet-based webinars. Click here for more information.
Monterey Park Held Public Meeting Concerning Airplane Noise in November 2016
On November 10, 2016, the City of Monterey Park held a public meeting to discuss the issue of airplane noise and low flying aircrafts. Thank you to those who came out and expressed their comments or concerns. The PowerPoint presentation (PPT) slides can be viewed.

Low Flying Aircraft
Report aircraft that you suspect are flying below their designated altitude of 2,500 feet (sea level). Contact the airport via telephone at 424-64-NOISE (424-646-6473) or log your complaint on the LAX Noise Management website.
To Report a Noisy or Low Flying Airplane
Additional Resources and Links
Statistics
Los Angeles World Airports (LAWA) has previously provided an overview of the number of flights that extend over Monterey Park and the altitude. View statistics (PDF) on flights online.
Community Noise Roundtable
LAWA provides a public forum to express concerns about airport operations at Community Noise Roundtable meetings that are held at the airport on a bimonthly basis. Visit the roundtable website for meeting info, agendas, recaps and presentation and correspondence documents.